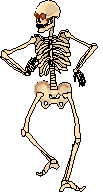 Ghastly
Ghoul
Mix!
1/2 CUP RED HOTS
1/2 CUP GUM DROPS
1/2 CUP SUNFLOWER SEEDS (WITHOUT THE SHELLS)
1 CUP CANDY CORN
1 CUP M&M'S (HALLOWEEN COLORS)
1 CUP CORN CHIPS
1 CUP RAISINS
1 CUP CHEESE CURLS
1 CUP GOLDEN GRAHAMS CEREAL
1 CUP DRY ROASTED PEANUTS
1 CUP SHOE STRING POTATOES

PLACE IN LARGE BAG AND SHAKE! PUT IN SERVING CONTAINERS. ENJOY!